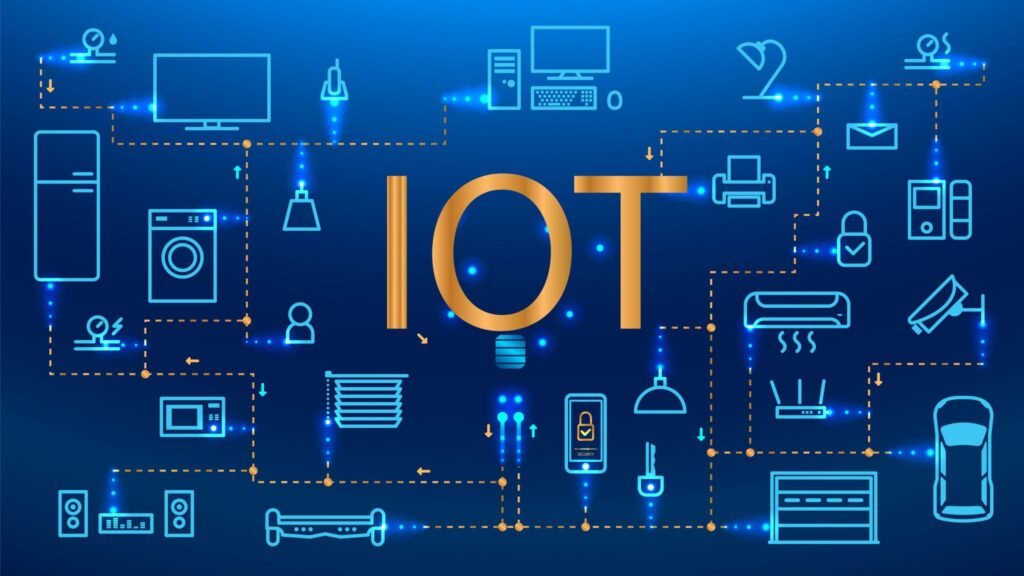 The Internet of Things, or IoT, refers to the billions of physical devices around the world that are now connected to the internet, all collecting and sharing data. Thanks to the arrival of super-cheap computer chips and the ubiquity of wireless networks, it's possible to turn anything, from something as small as a pill to something as big as an airplane, into a part of the IoT. Connecting up all these different objects and adding sensors to them adds a level of digital intelligence to devices that would be otherwise dumb, enabling them to communicate real-time data without involving a human being. The Internet of Things is making the fabric of the world around us more smarter and more responsive, merging the digital and physical universes.
Internet of Things services comprise strategic consulting, development, data analytics, and application management aimed at helping organizations solve their business challenges and tap in new revenue streams via IoT technology.
How IoT works: The basic elements of the IoT are devices that gather data. Broadly speaking, they are internet-connected devices, so they each have an IP address. They range in complexity from autonomous vehicles that haul products around factory floors to simple sensors that monitor the temperature in buildings. They also include personal devices like fitness trackers that monitor the number of steps individuals take each day. To make that data useful it needs to be collected, processed, filtered and analyzed, each of which can be handled in a variety of ways.
Collecting the data is done by transmitting it from the devices to a gathering point. Moving the data can be done wirelessly using a range of technologies or on wired networks. The data can be sent over the internet to a data center or a cloud that has storage and compute power or the transfer can be staged, with intermediary devices aggregating the data before sending it along.
Processing the data can take place in data centers or cloud, but sometimes that's not an option. In the case of critical devices such as shutoffs in industrial settings, the delay of sending data from the device to a remote data center is too great. The round-trip time for sending data, processing it, analyzing it and returning instructions (close that valve before the pipes burst) can take too long. In such cases edge-computing can come into play, where a smart edge device can aggregate data, analyze it and fashion responses if necessary, all within relatively close physical distance, thereby reducing delay. Edge devices also have upstream connectivity for sending data to be further processed and stored.
An IoT vendor with 9 years of experience, DIGITAL GROWTH INDIA offers full-range IoT services and helps organizations work out reliable and cost-effective ways of addressing their business challenges and tech obstacles with IoT technologies
IoT Services At DIGITAL GROWTH INIDA:
Our business analysts and software architects will help you create or tailor a solution that addresses your business objectives with full-range IoT consulting comprising:
Strategic planning and business case development.
Technologies stack selection.
IoT architecture design.
Cyber security strategy design.
Full-cycle IoT development
We support businesses in their IoT development initiatives with:
Firmware engineering.
Data warehouse design and engineering.
Data analytics implementation.
Custom web and mobile application development (dashboarding, visualization).
Network engineering and implementation.
Device and network security testing.
API design and provisioning.
Application launch.
We help businesses draw actionable insights from IoT data with comprehensive IoT analytics services:
Implementing IoT analytics solutions:

We offer full-cycle IoT analytics solution development – starting from needs analysis to solution launch and management – for you to draw insights from IoT data with your own enterprise-wide analytics tool.
Offering IoT analytics as a service:

 

If you want to bypass implementing an in-house analytics solution, consider obtaining IoT insights based on a subscription model – you gain access to a web interface, while we handle the solution's technical realization.
IoT Application Management
We make sure you gain continuous value from your IoT application by providing:
Technical support and 

troubleshooting service

:

service desk, data integrity and issue management for quick identification of data quality, application availability and usage issues.
Cloud management:

cloud resources consumption monitoring and optimization, tuning scaling policies and the choice of used instances and storage classes for an optimal application behavior at manageable costs.
Security management and regulatory compliance:

 

network, server, database, and application vulnerability assessment; penetration testing; infrastructure compliance review and reporting; DDoS and APT prevention and mitigation.
IoT solution evolution:

application updates and expansions for supporting your changing business needs.