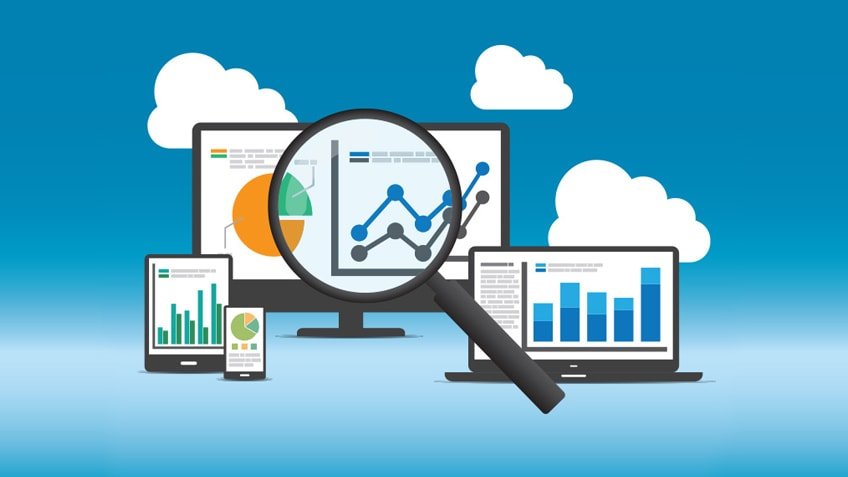 We at DIGITAL GROWTH INDIA, Web Analytics Company in Delhi, we offer premium and high standard web and digital analytics depending open the size of your business operations be it fortune 500 multimillion corporations or medium to small scale business. Our team of experts understand the standards of your measurements and approach for the business objective and performs the web/digital analytics accordingly with the help of premium analytics tools and methods like Google analytics and further measure performance
Web Analytics is the process of collecting, processing, and analyzing of website data.
With Web analytics, we can truly see how effective our marketing campaigns have been, find problems in our online services and make them better, and create customer profiles to boost the profitability of advertisement and sales efforts.
Every successful business is based on its ability to understand and utilize the data provided by its customers, competitors, and partners.
Benefits of Web Analytics
1. Measure online traffic
Web analytics will tell you:
How many users and visitors you have on your website at any given time.

Where do they come from? 

What are they doing on the website?

How much time are they spending on the website? 
The analytics will divide all the sources of traffic and website conversions in an easily understandable way. Analyzing the data provided, a company will recognize which activities produce the most profit to the bottom line.
For example, we learned through data the effects of ranking higher on Google Search on a niche online store.
The analytics tracks how organic and paid traffic has been developing over time in real-time, and this will help a company invest their time and money more effectively.
Bounce Rate in analytics means that a user who has visited the website leaves without interacting with it.
A high bounce rate might tell us the following:
The users didn't feel that content was for them, or it didn't match well with the search query. 

A weak user experience overall. 
When a high bounce rate occurs on a website, it's hard to expect a website to produce quality leads, sales, or any other conversions related to business.
Tracking and improving the user experience and making sure that the content is what the users want will lower the bounce rate and increase the profitability of the website.
Tracking different exit pages from the analytics will show the worst performing pages in the business.
3. Optimizing and Tracking of Marketing Campaigns
For different marketing campaigns, online or offline can be created unique and specific links that can be tracked. Tracking these unique links will provide you with details on how these marketing campaigns have been received by the users and if it's been profitable.
By tracking everything possible, you will find potentially highly returning campaigns to invest more and cancel campaigns that are performing poorly.
Unique links also allow tracking offline-to-online campaigns. For example, a business could share it's a unique link in an event or utilize the link in mailing campaigns which effects could be tracked online.
4. Finding the Right Target Audience and its Capitalization
In marketing, it's crucial to find the right target audience for your products and services. An accurate target group will improve the profitability of marketing campaigns and leave a positive mark on the company itself.
Web analytics will provide companies with information to create and find the right target audiences.
Finding the audience will help companies create marketing materials that leave a positive feeling to their customers.
The right marketing campaigns to the right audiences will increase sales, conversions, and make a website better.
5. Improves and Optimizes Website and Web Services
With web analytics, a company will find potential problems on its website and its services.
For example, a bad and unclear sales funnel on an online store will decrease the number of purchases, thus declining revenue.
Users must find the right content at the right time when they are on the site. Creating specific landing pages for different purposes could also help.
Tracking the performance of the mobile versions is an example of how to make a better experience for the users.
6. Conversion Rate Optimization (CRO)
Only through the utilization of web analytics websites can improve their conversion optimizations. The goal of CRO is to make users do tasks assigned to them.
The conversion rate is calculated when received goals are divided by the number of users.
There are many conversion a website should measure, and every business should measure those that are most important to their business.
A list of few conversion anyone can start with:
Every step of a sales funnel (add to carts, purchases, product views, etc.)

Leads

Newsletter sign ups

Registrations

Video Views

Brochure downloads

Clicks on text-links

Bids and offers

Event registrations

Spent time on a website

Shares on social media

Contacts from contact forms.

7. Tracking business goals online

A thriving business and its website have to have clear goals it tries to achieve.

With web analytics, companies can create specific goals to track. Measuring goals actively allows reacting faster to certain events through data.

As important as creating goals is, it's also important to know what goals any given business should track. Not every goal online is created equal, thus tracking too many goals could become an issue for a business.

Always track goals that measure the effectiveness, profitability, and weaknesses of certain events.

8. Improve the results from Google Ads and Facebook ads

Analytics has a major role when it comes to managing online advertisements.

The data tells us how much the online advertisements have produced clicks, conversions, and how the ads have been received by the target audience.

For example, discovering through data which are the most common mistakes of Google Ads, can drastically improve your results and increase the efficiency of your ads.

Efficient data collection will increase the results of online advertisements.

Web analytics enable the use of remarketing in advertisements.

For most companies and websites, the use of Google analytics will be enough. Google Analytics is a free tool for web analytics that is fairly simple to install on any platform.

Google Analytics will give you quickly an overview of how your online business is performing.

Analyzing data gives a unique opportunity to find new perspectives within your business model.

Tracking your data will provide you with more insights about trends and customer experiences within your business. These opportunities could potentially be seeds for growth internally and organically.

For example, a newly written article that brings more organic traffic compared to the rest of the site. Knowing this early on could shift your marketing efforts into a more profitable path.
We at DIGITAL GROWTH INDIA, Website Promotion Company in Delhi expertise in providing Website Promotion and marketing. Our team of professionals excel in executing and managing various website promotion campaigns on different platforms. Our team possesses in depth knowledge of developing interactive, informative, appealing and unique promotion campaigns based on targeted and relevant keywords.
Website promotion is an extremely popular concept in today's business environment. Nowadays, most offline businesses are turning their attention towards the online space. Having a professional website that represents your brand or business is the best way to start with the right foot in today's marketplace. Don't forget to make your website mobile-friendly.
Promoting a website is not difficult, but it isn't dead simple either. We could state that website promotion is a complex activity which creates a lot of unpredictable variables. When you expect something to turn out just fine, you soon realize that everything went extremely wrong.
Ways to promote Website:
1. Advertise
This one is so obvious, we're going to look at it first. Paid search, social media advertising and display advertising (try our Smart Ads Creator!) are all excellent ways of attracting visitors, building your brand and getting your site in front of people. Adjust your paid strategies to suit your goals – do you just want more traffic, or are you looking to increase conversions
2. Get Social
It's not enough to produce great content and hope that people find it – you have to be proactive. One of the best ways to increase traffic to your website is to use social media channels to promote your content. Twitter is ideal for short, snappy (and tempting) links, whereas Google+ promotion can help your site show up in personalized search results and seems especially effective in B2B niches. If you're a B2C product company, you might find great traction with image-heavy social sites like Pinterest and Instagram.
3. Mix It Up
There is no magic formula for content marketing success, despite what some would have you believe. For this reason, vary the length and format of your content to make it as appealing as possible to different kinds of readers. Intersperse shorter, news-based blog posts with long-form content as well as video, infographics and data-driven pieces for maximum impact.
4. Write Irresistible Headlines
Headlines are one of the most important parts of your content. Without a compelling headline, even the most comprehensive blog post will go unread. Master the art of headline writing. For example, the writers at BuzzFeed and Up worthy often write upward of twenty different headlines before finally settling on the one that will drive the most traffic, so think carefully about your headline before you hit "publish."
5. Pay Attention to On-Page SEO
Think SEO is dead? Think again. Optimizing your content for search engines is still a valuable and worthwhile practice. Are you making the most of image alt text? Are you creating internal links to new content? What about meta descriptions? Optimizing for on-page SEO doesn't have to take ages, and it could help boost your organic traffic.
6. Target Long-Tail Keywords
Got your high-intent keyword and popular keyword bases covered? Then it's time to target long-tail keywords, too. Long-tail keywords account for a majority of web searches, meaning that if you're not targeting them as part of your paid search or SEO efforts, you're missing out.
7. Start Guest Blogging
Before you say it – no, true guest blogging isn't dead, despite what you may have heard. Securing a guest post on a reputable site can increase blog traffic to your website and help build your brand into the bargain. Be warned, though – standards for guest blogging have changed radically during the past eighteen months, and spams tactics could result in stiff penalties. Proceed with caution.
8. Invite Others to Guest Blog on Your Site
Guest blogging is a two-way street. In addition to posting content to other blogs, invite people in your niche to blog on your own site. They're likely to share and link to their guest article, which could bring new readers to your site. Just be sure that you only post high-quality, original content without spam links, because Google is cracking way down on low-quality guest blogging.
9. Go After Referral Traffic
Rather than trying to persuade other sites to link back to you (a tedious and time-intensive process), create content that just begs to be linked to.
When Larry wrote about the kick in the proverbial teeth that eBay took from Google's Panda update, we managed to secure a link from Ars Technica in the Editor's Pick section alongside links to The New York Times and National Geographic. Not too shabby – and neither was the resulting spike in referral traffic.
10. Post Content to LinkedIn
LinkedIn has become much more than a means of finding another job. The world's largest professional social network is now a valuable publishing platform in its own right, which means you should be posting content to LinkedIn on a regular basis. Doing so can boost traffic to your site, as well as increase your profile within your industry – especially if you have a moderate to large following.
11. Implement Schema Microdata
Implementing schema (or another microdata format) won't necessarily increase traffic to your website on its own, but it will make it easier for search engine bots to find and index your pages. Another benefit of using schema for SEO is that it can result in better rich site snippets, which can improve click-through rates.
12. Link Internally
The strength of your link profile isn't solely determined by how many sites link back to you – it can also be affected by your internal linking structure. When creating and publishing content, be sure to keep an eye out for opportunities for internal links. This not only helps with SEO, but also results in a better, more useful experience for the user – the cornerstone of increasing traffic to your website.
13. Interview Industry Thought Leaders
Think interviews are only for the big leaguers? You'd be amazed how many people will be willing to talk to you if you just ask them. Send out emails requesting an interview to thought leaders in your industry, and publish the interviews on your blog. Not only will the name recognition boost your credibility and increase traffic to your website, the interviewee will probably share the content too, further expanding its reach.
14. Don't Neglect Email Marketing
So many businesses are focused on attracting new customers through content marketing that they forget about more traditional methods. Email marketing can be a powerful tool, and even a moderately successful email blast can result in a significant uptick in traffic. Just be careful not to bombard people with relentless emails about every single update in your business. Also, don't overlook the power of word-of-mouth marketing, especially from people who are already enjoying your products or services. A friendly email reminder about a new service or product can help you boost your traffic, too.
15. Make Sure Your Site is Responsive
The days when internet browsing was done exclusively on desktop PCs are long gone. Today, more people than ever before are using mobile devices to access the web, and if you force your visitors to pinch and scroll their way around your site, you're basically telling them to go elsewhere. Even if you have a basic website, you still need to ensure that it is accessible and comfortably viewable across a range of devices, including smaller smartphones.
16. Make Sure Your Site is Fast
Ever found yourself waiting thirty seconds for a webpage to load? Me neither. If your site takes forever to load, your bounce rate will be sky high. Make sure that your pages are as technically optimized as possible, including image file sizes, page structure and the functionality of third-party plugins. The faster your site loads, the better.